We Have Jason Momoa To Thank For Dante's Eccentric Fashion Sense In Fast X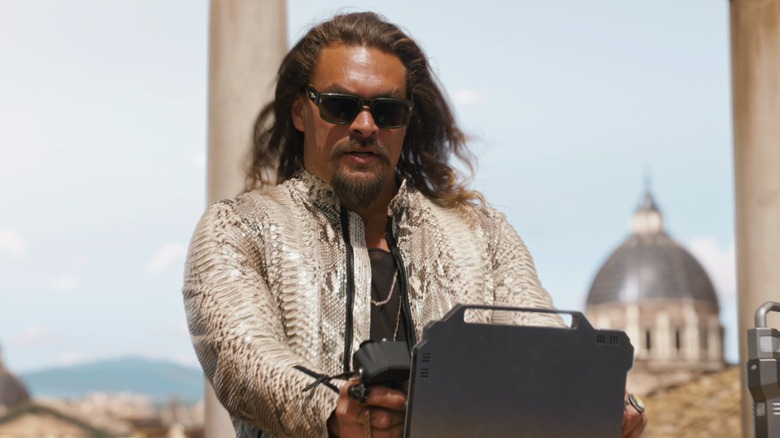 Jason Momoa knows his "Fast X" character doesn't look like other villains. In a movie series full of tank-top-clad bald dudes, stylish suits and sunglasses, and whatever was happening to Charlize Theron's hair at one point, Dante Reyes (Momoa) stands out. The character made waves when a first image was released, showing Momoa wearing a purple silk shirt, a hair scrunchy, a pair of sunglasses with a totally clashing glasses chain, a spiky necklace, a pastel fingernail polish, and enough accessories to singlehandedly slow down a TSA line.
Fans were instantly intrigued by Dante's look, and in the most recent issue of Total Film magazine, the actor spoke about the motivation behind his character's accoutrements -- which were apparently all his idea. The actor reportedly pitched a lot of ideas for the character, from dark contact lenses that gave his eyes a shark-like look to a pastel lavender 1970 Chevy Impala that can be spotted in the film's trailer.
It Had To Be Lavender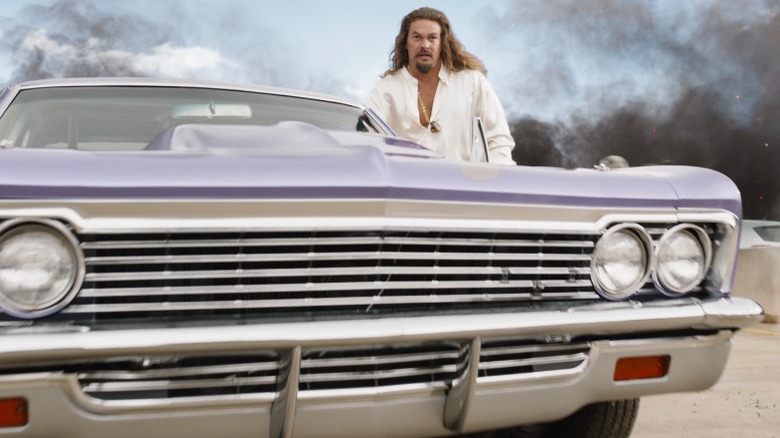 "Normally, a director will say 'Don't do that.' But Louis was like, 'Do more!'" Jason Momoa said, commenting on director Louis Leterrier's response to his character choices. Meanwhile, vehicle coordinator Dennis McCarthy estimated he and Momoa considered 10 different shades of purple before settling on the perfect one for the car. "I said, 'I'm getting it in f***ing lavender.'" Momoa told the outlet. "It was one of my main things. I was like, 'I'm not doing this unless I have everything in pastel.' And they supported it."
The actor ultimately ended up with a lavender car, which he said is named after his mother. ("She absolutely hates lavender," he shared.) The lavender love went far beyond the hue of the Impala's paint job, though: Momoa hinted that it's a choice that will make audiences feel the opposite of threatened by Dante -- at first. "I wanted to make him look really inviting and easy-going, to have a softer side. That's why he wears pastels," he told Total Film, acknowledging that Dante is "a little androgynous." For the latest "Fast & Furious" film, Momoa seems to have intentionally gone in a different direction than the muscle-bound bad guys before him. "I didn't want it to turn into another macho, testosterone-showdown kind of thing," he shared.
'I Wanted You To Be Intrigued By Dante Reyes'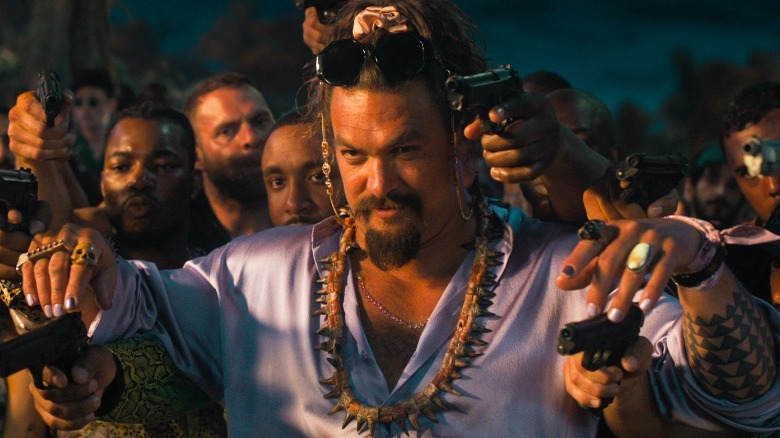 Despite the softness to Dante's look (that scrunchy especially is disorientingly adorable), it's clear from the new trailer for "Fast X" that he's a villain who's capable of a whole lot of harm. He seems to have a vendetta against Dom's (Vin Diesel) family, and might be putting the hero in some unwinnable situations in his quest for vengeance. "That's the problem with having such a big family: how do you choose the ones you save?" he says in the trailer, a line that sounds more like Jigsaw or the Joker than a "Fast and Furious" villain. "He's been really, really hurt, so he's a dangerous person," Jason Momoa explained. "But his external vibes [...] I wanted you to be intrigued by Dante Reyes, and when you get close, he has you."
As for exactly how dangerous Dante is, fans will have to wait until the film hits theaters, but the actor told Total Film fans will want his character dead, and that the shoot involved "some pretty sadistic stuff that I had fun doing." Diesel echoed the latter sentiment, saying, "What's so scary about his character is the void of love, and how much that fuels his hate and desire for destruction." Another line in the trailer hints at just how dark Dante might go: "Never accept death when suffering is owed," he hisses in voiceover, and I can only hope he's wearing his pastel manicure and granny glasses chain as he says it.
"Fast X" hits theaters on May 19, 2023.
Read this next: The 14 Greatest Action Movies Of The 21st Century
The post We Have Jason Momoa To Thank For Dante's Eccentric Fashion Sense In Fast X appeared first on /Film.