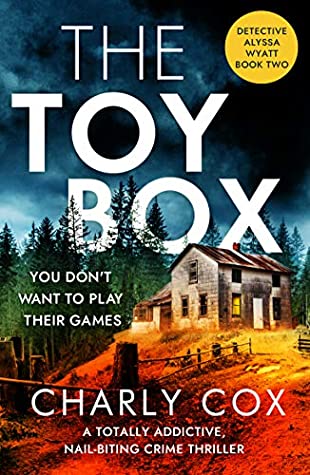 The Toybox
by
Charly Cox
Series:
Detective Alyssa Wyatt #2
Genres:
Crime Fiction
Source:
Publisher
Purchase*:
Amazon
*affiliate
Rating:
You don't want to play their games…

All around Albuquerque, New Mexico, young women are going missing, seemingly vanished into thin air. With no link between the victims, Detective Alyssa Wyatt is quickly plunged into a horrifying case with no obvious clues.

And when Jersey Andrews, the best friend of Alyssa's teenage daughter, Holly, joins the list of vanished girls, the case becomes personal.

But this investigation will lead Alyssa and partner Cord into the most sinister depths of humanity; an evil place where life is expendable, and where the depraved can fulfil their darkest desires – if they have the money to pay for it.

As the first bodies appear, abandoned on the streets, Alyssa is forced into a frantic hunt to track down the killers – before more innocent women lose their lives. But when the truth comes out, it seems that the key to solving the case was hiding in the last place anyone expected…

A dark, tension-filled and absolutely nail-biting crime thriller with a twist – this one will have you reading until the small hours. Fans of Robert Bryndza, Melinda Leigh and Lisa Regan will not want to miss this addictive read.
The Toybox by Charly Cox is the second novel in the Detective Alyssa Wyatt series. Dark, nail-biting suspense awaits you with this crime thriller.
Check out my review of book one here: All His Pretty Girls
Set in Albuquerque, New Mexico, we are once again back on the job with Detective Wyatt and her partner Cord Roberts. This takes place shortly after the events of book one, but each contains its own investigation and works on its own. If however you plan to read book one, do it FIRST as there are spoilers in book two.
What starts out as a missing persons case quickly morphs into something more sinister. To make matters worse, Jersey Andrews, the best friend of Alyssa's teenage daughter, Holly, goes missing too. Detective Wyatt won't stop until she brings these girls home.
This was another brilliant, tightly woven, nail-bitting investigation. When the body of an adolescent female is found dead, the tension increases. Suspects, absentee parents and a recent victim lead us down a dark gritty path to the unthinkable.
The clues, suspects and twists did not come easily, and Cox hooked me. I once again devoured this in a single evening.
Cox takes us into the underbelly of a world that parents fear, shedding a harsh light on the terrifying realities. A world no one like to speak of but is a worldwide epidemic. She did so thoughtfully, and factual with just enough horror to unnerve you.
I've added this author to my must read list. The writing flows smoothly as we get to know the key detectives and inner workings of the department.
---
A dark, nail-biting suspense awaits you in The Toybox by Charly Cox. #DetectiveAlyssaWyatt #crime #thriller #NewRelease
Click To Tweet

---
About Charly Cox
Born in the South, raised in the Midwest, Charly now resides in the Southwest in the Land of Enchantment where she enjoys eating copious amounts of green chile and other spicy foods. When she's not reading, writing, or plotting sinister evils with her antagonists, she enjoys doing jigsaw and crossword puzzles, hanging out with her husband and her spoiled Siberian Husky, visiting her son in Arizona, and traveling, preferably to places surrounded by sun, sand, and warm uncrowded beaches.