Mother's Day Gift Guide 2023 – Lovely Gift Ideas to Celebrate Mums
Mother's Day Gift Guide 2023 – Lovely Gift Ideas to Celebrate Mums | AD
The next big event in the calendar is of course Mother's Day so here's is my Mother's Day gift guide! Mother's Day is the day to celebrate mums, grandmothers and other motherly figures in your life with some special attention and lovely treats to enjoy. In this Mother's Day gift guide, I will share some of my favourite gift ideas to celebrate mums this year.
VonHaus Grey Sun Lounger Chair With Cushion
I'm going to start my Mother's Day gift guide with my favourite gift for Mother's Day – a special garden chair for just mum! A comfortable and stylish steamer chair to lounge on in the garden, a seat that is always available for her.
Mums spend so much of their time running around doing things for other people and rarely get to sit down to just relax. I think all mums deserve a special seat to enjoy in the garden where they can relax with a good book and drink.
This wonderful chair from VonHaus looks elegant and stylish and the classic design would suit any garden. It has a slatted construction made of durable acacia hardwood with a nice, oiled finish for a deep sheen. The chair comes with a seat cushion made from strong, quick-drying, wrinkle-resistant polyester that you attach to the chair for a secure fit.
The design of the VonHaus Grey Sun Lounger Chair With Cushion is adjustable so that you can choose whether you want to sit upright or lie down – there are 7 backrest positions and an adjustable, removable footstool. The chair folds up flat very easily and quickly for storage which is very convenient.
This beautiful garden chair would make a great Mother's Day gift that I'm sure would be very appreciated and used lots!
For a mum who loves gin, treat her to a gorgeous and delicious Gin In A Tin. Gin In A Tin is a British company that specialises in creating unique blends of gin presented in gorgeous tins. There's a fun and colourful collection of gins in tins to choose from that can be delivered as a letterbox gift and as monthly gin subscriptions. The tins can be personalised too and there are special edition tins in exclusive designs as well.
Here you can see the Blooming Delicious Gin! which is the perfect gin gift for Mother's Day. The design of this tin is stunning with an array of colourful foliage and flowers. The gin inside the tin has distinctive notes of pomegranate, raspberry and cardamom plus other botanicals centred around juniper. It's light and fruity and tastes amazing in a gin and tonic!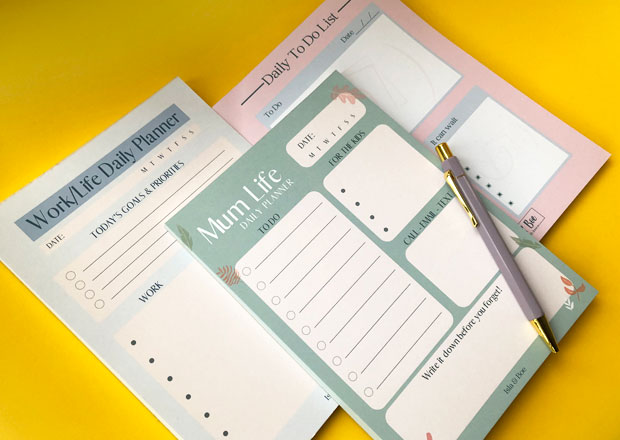 Isla & Boe Planners for Busy Mums
For the mum who loves to be organised, or perhaps the one that needs a bit of help to become more organised, these planners from Isla & Boe would be perfect! Isla & Boe is a small business run by a best friend duo. They decided to use their own life and motherhood experiences to create memory books and planners that are bespoke to busy mums. They have a range of great products to choose from that would make lovely Mother's Day gifts.
Here, you can see some of Isla & Boe's desktop planners for busy mums – Work/Life Daily Planner Desk Pad, Mum Life Daily Planner Desk Pad and Daily 'To Do List' Desk Pad. They're all an A5 in size with 50 easy tear-off sheets of 120gsm luxury paper per pad. You can also add a pretty pastel coloured pen to your planner when ordering.
I love a desktop planner – they help me so much in my busy life, juggling my work and motherhood. I love this range of planners from Isla & Boe – they look great, have clearly separated sections and inspire me to be more organised.
Milk Chocolate Salted Caramel Truffles from Joe & Seph's
Joe & Seph's have a brilliant range of yummy gourmet popcorn but they also make scrumptious luxury truffles! Their Milk Chocolate Salted Caramel Truffles are made with the finest ingredients and are little wonderful spheres of heaven. The shell is made from smooth Belgian chocolate, dusted in cocoa powder and, inside, there's a generous amount of Joe & Seph's award-winning salted caramel sauce. These truffles are so indulgent and delicious and make a delightful treat for Mother's Day! There's also a vegan dark chocolate caramel version available.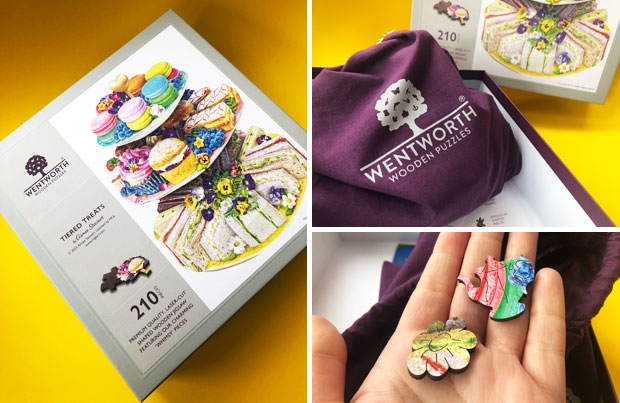 Wentworth Wooden Jigsaw Puzzle
A jigsaw puzzle from Wentworth Wooden Puzzles is always a great gift for anyone who loves a jigsaw puzzle. These are the best jigsaw puzzles in the world in my opinion – high-quality, sustainable wooden jigsaw puzzles that are expertly laser-cut into irregular shaped pieces and whimsies which are shaped puzzle pieces designed to match the theme of the image on the jigsaw. The puzzles from Wentworth Wooden Puzzles are made in the UK and the packaging is completely plastic-free too. The quality is so amazing – these jigsaws are made to last!

The new Spring jigsaw collection includes lots of fun designs that are perfect for Mother's Day! I opted for the Tiered Treats jigsaw puzzle which is a shaped afternoon tea puzzle with 210 pieces. The colourful design by Aimee Stuart is a tiered afternoon tea plate filled with delicious treats – lots of finger sandwiches, different types of cakes, colourful macarons and other scrumptious treats. The whimsies are all teatime themed as well to match the afternoon tea theme. It's a great jigsaw and makes a lovely Mother's Day gift!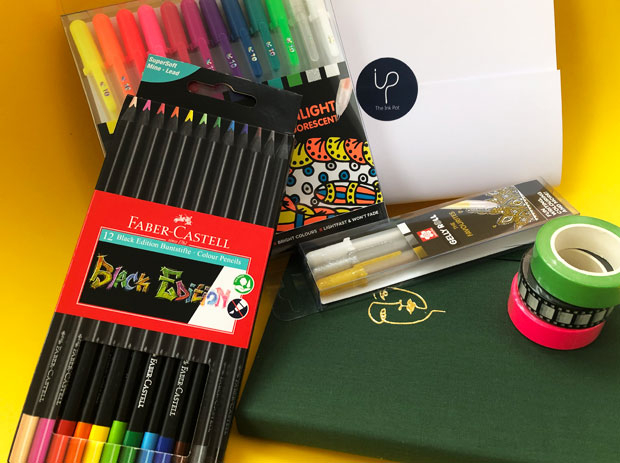 The Ink Pot Luxury Journal Sets
For a mama who is into journalling, look no further! The Ink Pot is a small, independent British stationery brand that makes beautiful luxury notebooks that make wonderful gifts. The notebooks can be personalised too, making them extra special and unique. Choose the colour of the notebook, the picture on the cover, the foil cover and personalise with a name or word (up to 8 letters).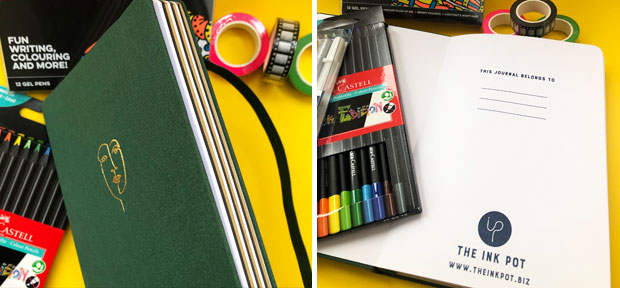 The Ink Pot also have a lovely range of gift sets. Here, you can see the Club Sandwich Journal Set – Luxury Box which contains a Club Sandwich personalised notebook which has a mix of black paper, brown Kraft paper and white paper. With this stunning, high-quality notebook, you also get a selection of luxury pens (12-pack of Moonlight gelly roll pens and 3-pack of Sakura gelly roll pens), Faber Castell Black Edition colouring pencils (these work on all paper colours), and three rolls of fun Washi tape.
It's a beautiful gift set full of lovely products that anyone who's into journalling, stationery, or drawing would love!
If you're looking for a gift for a health-conscious mama, check out the range of teas from D'Amazonia available from The Positive Company. Choose from Sleep Tea, Health & Fitness Tea and Digestion Tea or opt for the full bundle. Each pouch contains 20 silk biodegradable tea bags.
The Digestive Tea has ingredients to improve your digestive system, aid with weight loss and prevent bloating. It also has anti-inflammatory benefits and can help boost your mood too. The Sleep Tea is packed with ingredients to help you achieve a good night's sleep, reduce stress and anxiety. It's also formulated to boost your immune system. The Health & Fitness tea has been developed to increase energy levels and strengthen you immune system, provide a natural detox, reduce bloating and speed up metabolism. All these teas can be enjoyed hot or iced.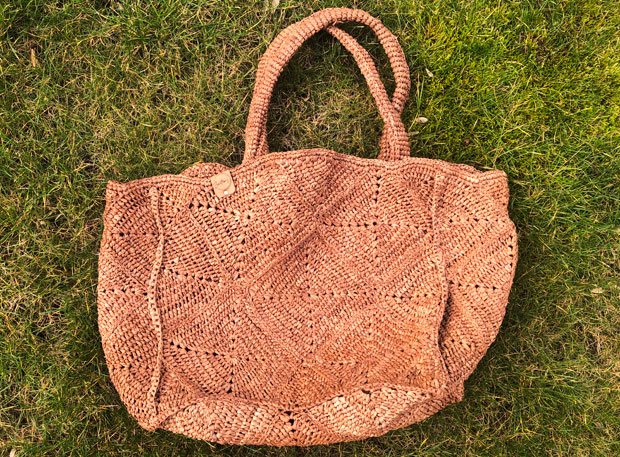 Zanatany Concepts Tote Bag
A beautiful and practical bag like this Zanatany Concepts Tote Bag makes a great gift! Zanatany Concepts' products are sustainably handmade in Madagascar. Zanatany means child of the Earth in Malagasy, a belonging and cultural affirmation. Zanatany Concepts got their inspiration for their product range from life in Madagascar.
"While we create more work and income for a country that is largely left behind, we hope to make a local difference in some families by bringing additional income to help the next generation grow."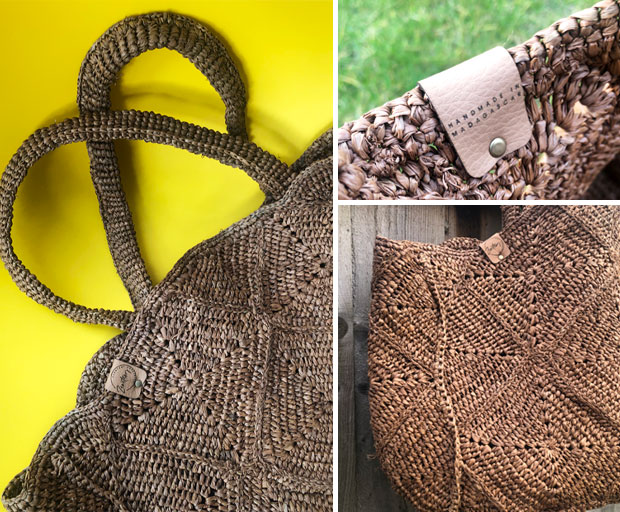 Zanatany Concepts work with raffia which is a natural fibre that is soft, pliable, strong, and durable. It's easy to dye and it's biodegradable too. It's a great material for bags, baskets, hats, mats, and rugs.
Here, you can see a beautiful Nico tote bag which is intricately weaved, has a large capacity, an open top and weaved short handles. It makes a perfect beach bag or shopping tote! It's very beautiful and I also love that it's soft and squashable so easy to pack into your suitcase for when going on holiday!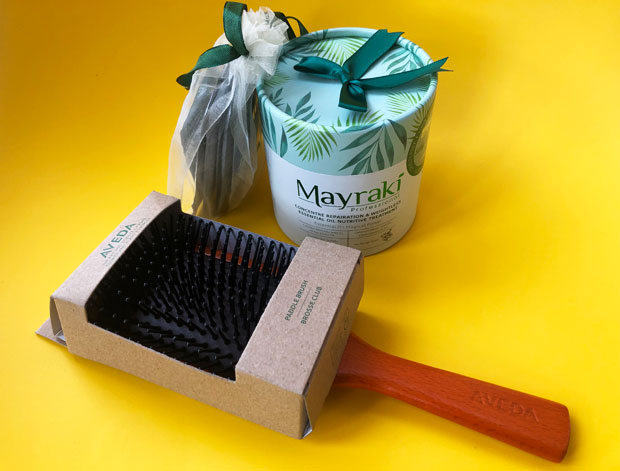 Mayraki Hair Care Gift Set
Some pampering treats always make brilliant Mother's Day gifts! This nourishing Mayraki Hair Care Gift Set is the perfect hair care treat for anyone who wants to show their hair some TLC. The set consists of a Mayraki Weightless Essential Oil Nutritive Treatment and a wooden paddle brush.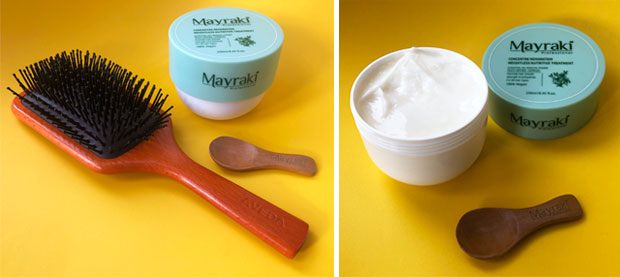 The Mayraki Weightless Essential Oil Nutritive Treatment is a wonderful treatment for damaged and/or dry hair. You can use it as a pre-shampoo treatment to hydrate and repair hair if your hair is very damaged. Leave on for 15-30 minutes, then shampoo and condition as normal.
The other way to use it is as an after-shampoo treatment to condition your hair. After washing, towel dry and add a generous amount of treatment to your hair from an inch away from the roots all the way to the tips of the hair. Leave for 20-30 minutes, then rinse as usual. You can also use it for quick conditioning in the shower on busy days with great results! This hair treatment leaves hair silky smooth and easy to brush. The large paddle brush is great for brushing your hair through after washing and also gives your scalp a nice massage.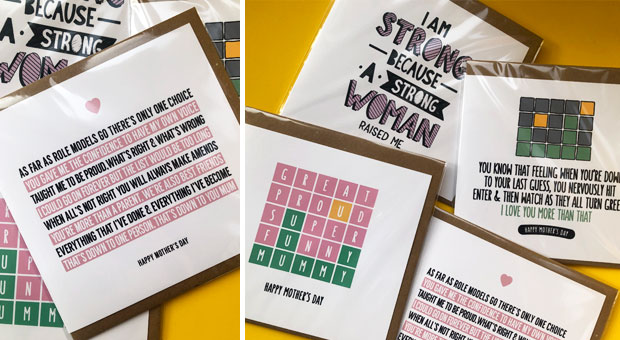 Last, but not least, we're going to look at some beautiful Mother's Day cards. A card for Mother's Day is an important part of the celebration and I have some lovely options here in my Mother's Day gift guide.
Above, you can see some fun and heartfelt options from A Town Called Home. A Town Called Home is a small business based in Newcastle that launched during the pandemic. They provide a wide range of cards for all different occasions as well as other gifts like mugs and prints. They create unique, hand-made designs that make people smile and offer lots of themed cards – TV & Music, Sports, and Funny & Regional. I love the Wordle designs personally – they're both funny and sweet!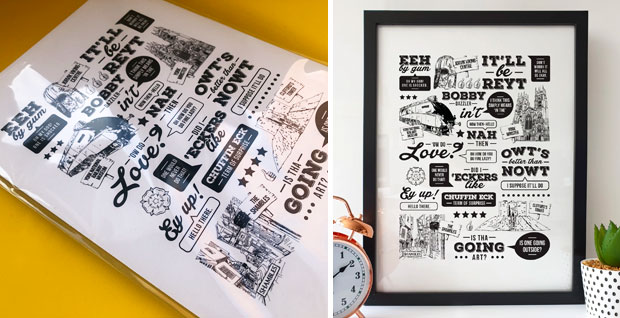 If you want to buy a regional gift or card, you can browse these by region which is very helpful. I love this Yorkshire Sayings – Yorkshire Phrases Translations Print. It's a unique print with translations of some popular Yorkshire phrases. It also includes illustrations of some popular Yorkshire landmarks. Available in A3 or A4.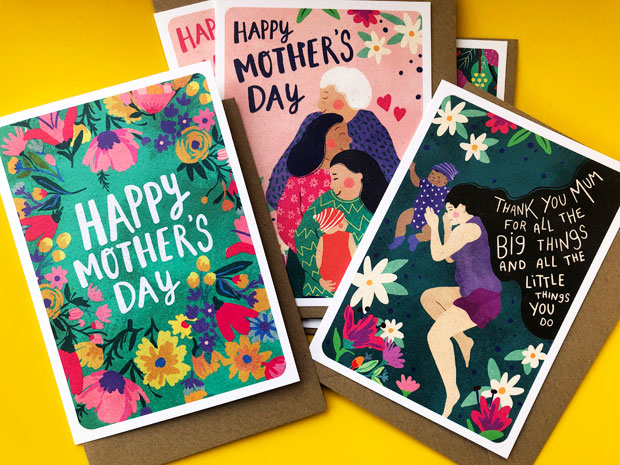 Next up, these pretty cards from Cake and Crayons which is a one-person business run by Helen. She draws all the illustrations and designs all the cards as well as takes care of all the orders, packing and shipping. She makes beautiful cards – each one is like a piece of art!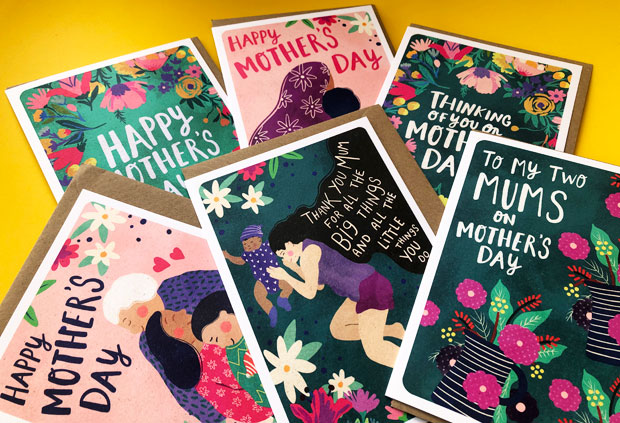 Here, you can see some of the Mother's Day cards that are available from Cake and Crayons. The designs are so vibrant and colourful! They have sweet messages to mothers on Mother's Day and I love that there's a card for two mums and one that says "Thinking of you this Mother's Day" that could be given to someone who needs some extra love on this day. There's also a "You're like a Mum to me" card and a design for grandmothers too. All cards are blank on the inside so that you can add your own message. The cards are supplied with a kraft envelope and printed on 300gsm fully recyclable card stock.
Hope you've enjoyed my Mother's Day gift guide for this year and have found some nice gift ideas to inspire you!
Collaboration. Features gifted samples.
The post Mother's Day Gift Guide 2023 – Lovely Gift Ideas to Celebrate Mums appeared first on A Mum Reviews.