Get sorted for college 2021 with aparto's latest accommodation in Dublin
With the return of college only around the corner, student accommodation is highly sought after across Dublin. aparto have made the search easy with their state of the art accommodation for students here in Ireland and those coming from further afield.
You can also book with confidence with aparto's flexible cancellation policy, get up to a €300 shopping voucher on booking, and if you are studying healthcare they offer a special medical student room rate.
There are a number of different locations available including Binary Hub, Dorset Point and Beckett House. Their latest location, The Loom is a brand new student residence, located on Cork Street, Dublin 8.
So, what can you expect from aparto?
As we know one of the biggest aspects to college life is not just the hard work involved, but also the experiences you have alongside it. aparto have a big focus on creating a lifestyle around their accommodation as well as a thriving and vibrant community.
The Loom, their latest location, opens this September on Cork Street in Dublin and has plenty of amenities to offer incoming residents and brings student living to new heights in the heart of the capital.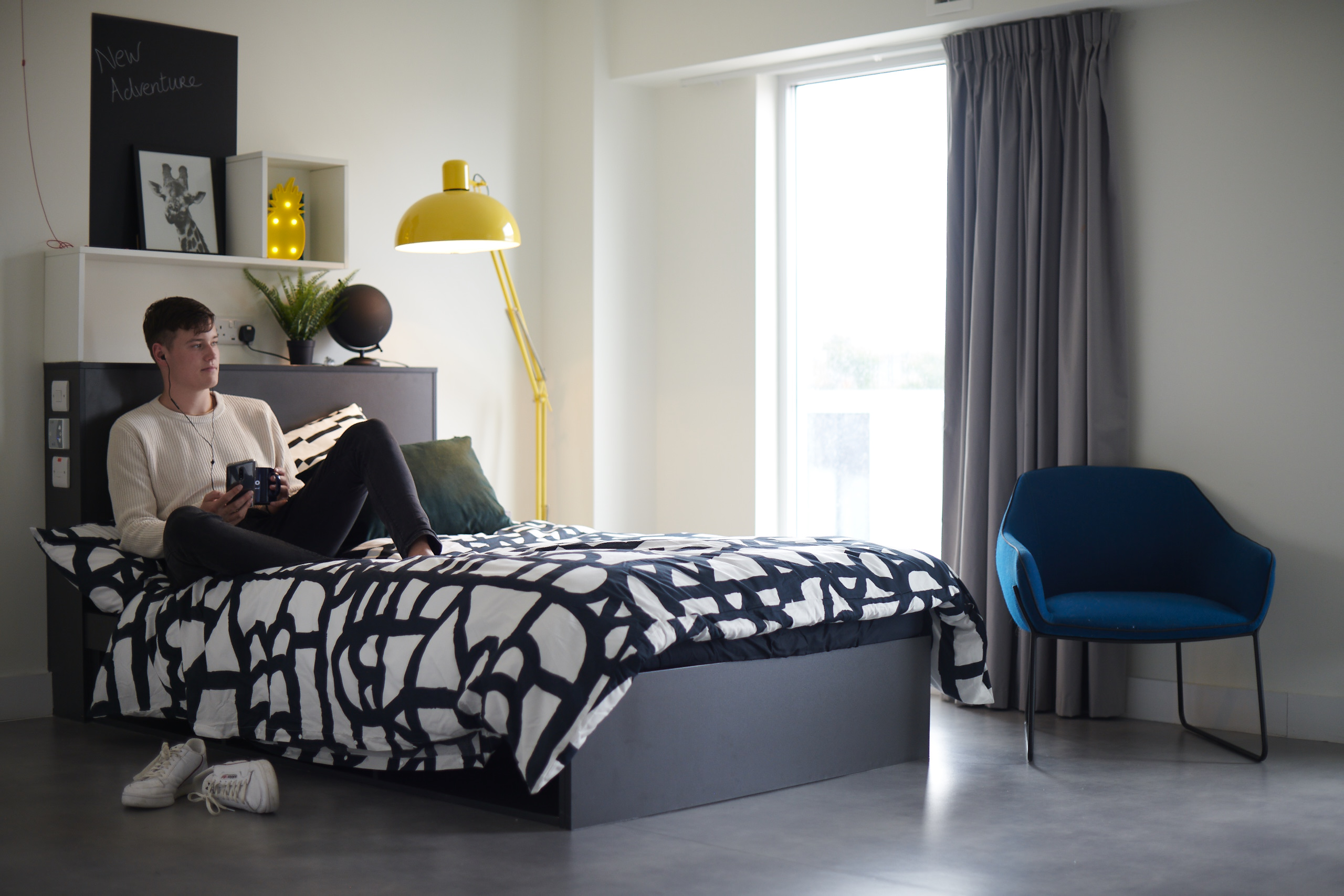 Bedrooms
The Loom offers 166 cosy ensuite bedrooms all of which are fully furnished with colourful and contemporary decor that will make students feel at home. The apartments range from six to eight bedrooms, each with it's own private ensuite bathroom.
As the aparto team want to make students and parents feel at ease and find the best fit possible, for anyone unable to travel,  they can organise a 360 personalised virtual tour via Zoom.
 

View this post on Instagram

 
Common Space
As well as offering privacy within your own space, there are also common areas where students can meet other like minded people and make their college experience unforgettable.
Each aparto residence is an award-winning destination where students are supported, encouraged, and made to feel at home and this is aided by common areas where they can socialise, meet others and make friends.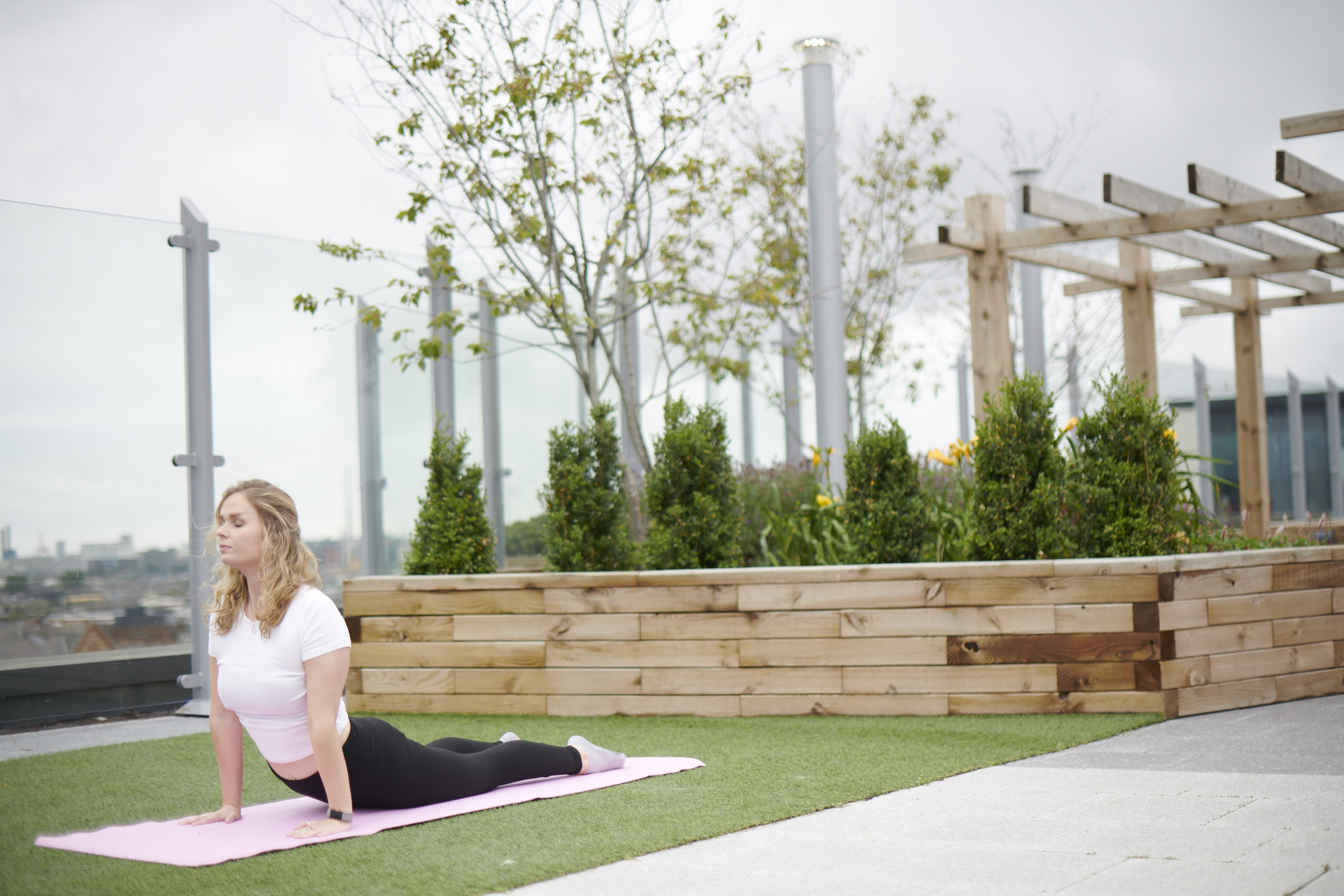 Rooftop Terrace
Another communal area residents can enjoy is the rooftop terrace with panoramic views of Dublin city and it's also a great spot to sit and soak up some sunshine.
Having somewhere to sit outside like this urban oasis at Beckett House is a great place for socialising and meeting others, but also needed for a students mental health and wellbeing.
Gym
aparto have a gym in all residences across Dublin, which is vital for both a students physical and mental health. The aparto gym is welcoming for both beginners as well as more advanced and experience gym-goers with surround sound speakers to listen to music whilst you workout.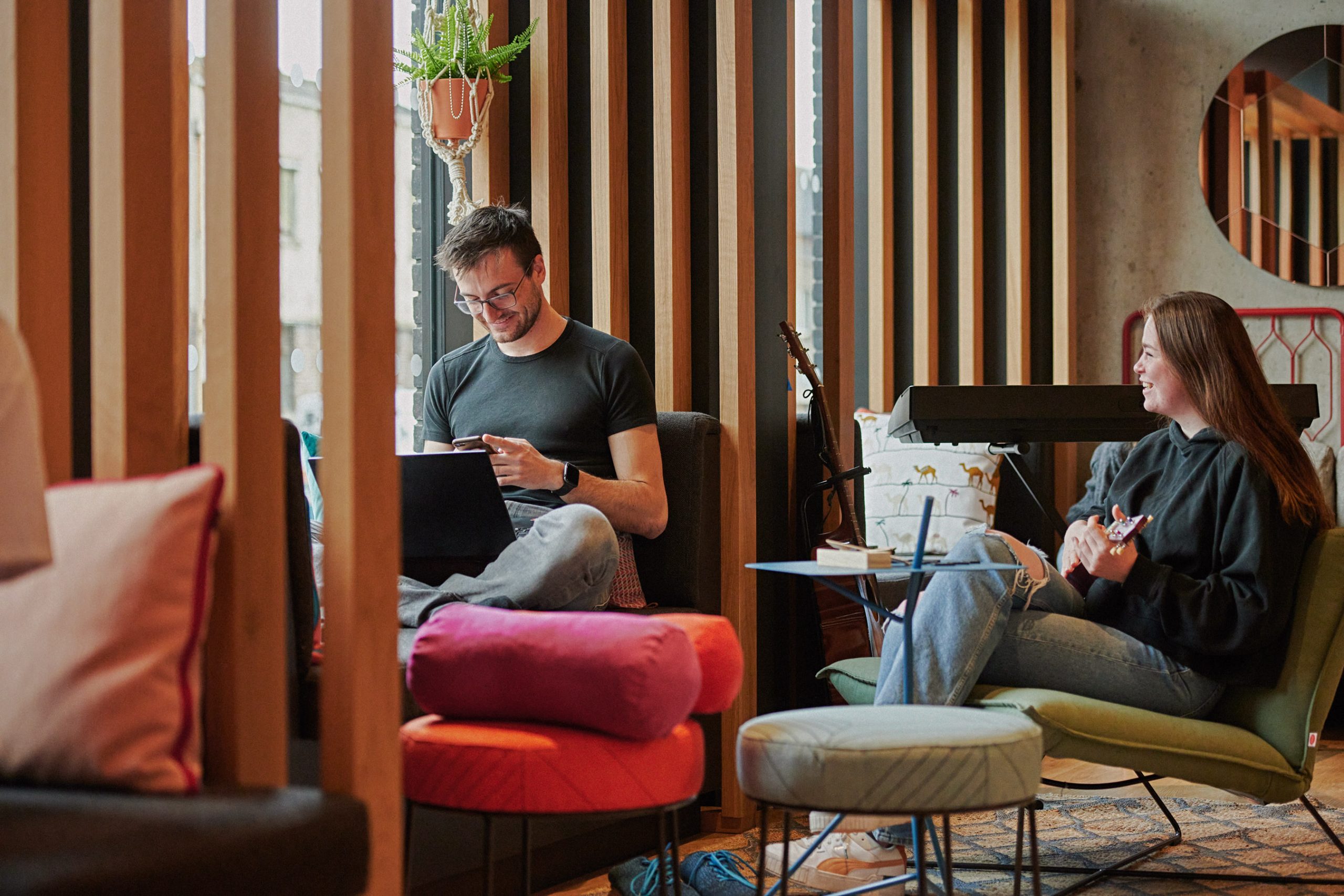 Study Space
Possibly one of the best parts of the aparto accommodation is the inclusion of their study spaces. The Loom is no different however there is a new style of study at this residence – the study pod- a cosy, private space on each floor.
These are ideal for studying, creating podcasts, needing quiet to work or even somewhere to make TikTok content! Having a space to work away from a bedroom or common area is a great perk for college students come exam time too.
Cinema
For entertainment the on site cinema is the luxurious centre of the common spaces. Ideal for a cosy movie night with friends, PS5 gaming competitions, karaoke or even to prepare for a college presentation.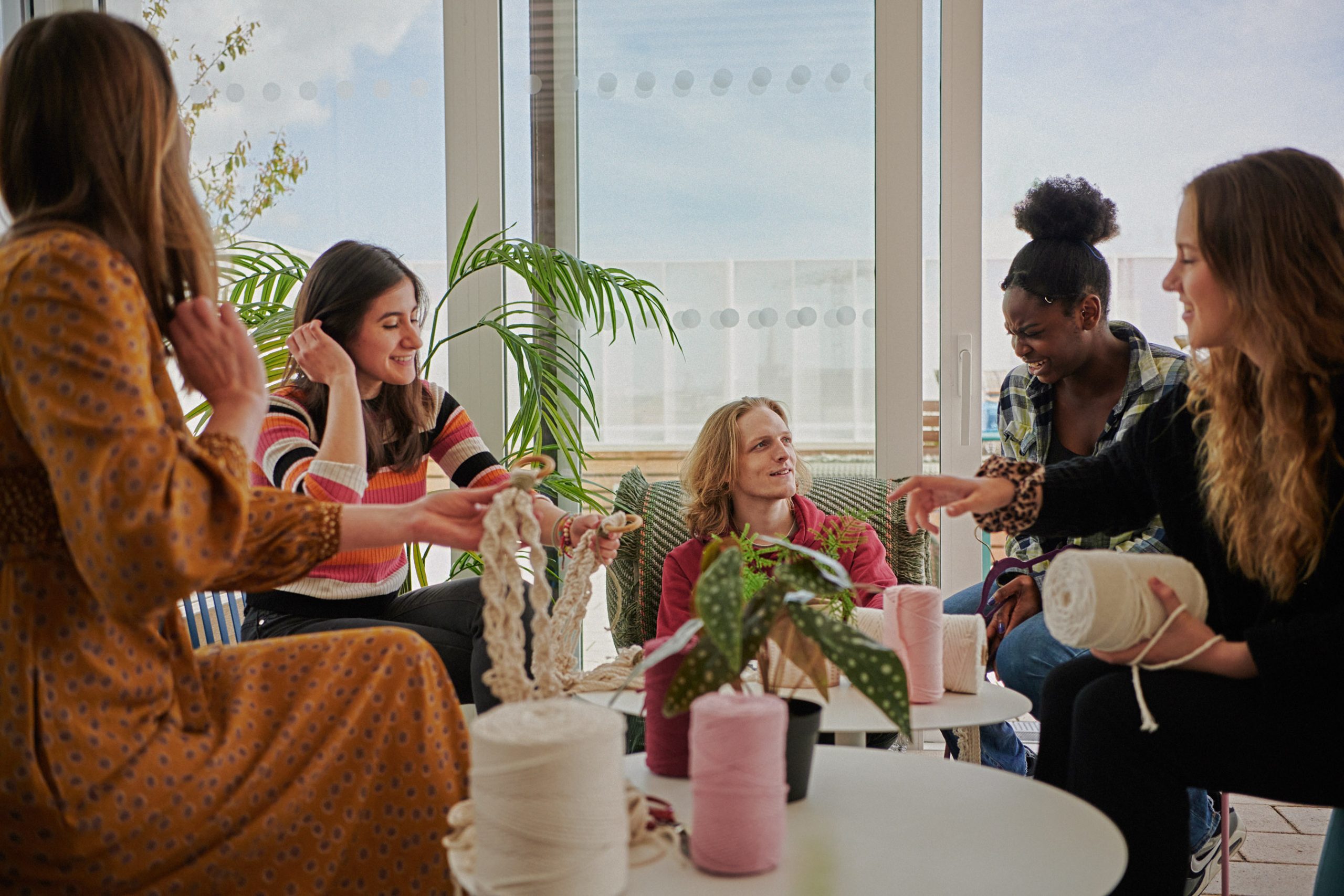 Experience and Wellbeing Programme
Over the past year we have all learned the importance of interacting with others and taking part which is what makes aparto's experience and wellbeing programme particularly fantastic.
Although some activities are taking place virtually for the time being there are lots of experiences to take part in from cook alongs to interior styling sessions, cocktails to career demos, modern macrame to calligraphy and from power-up Pilates to hiit workouts, there's something for every student here.
Other Essentials
Of course there are lots of other essentials for incoming students that have all been considered at aparto.
This includes speedy WIFI, laundry facilities, an expert and friendly team on hand to help, 24 hour CCTV, bike storage and all bills are included in your stay at aparto.
They also have access to support from their mental health partner through JIGSAW and also Kooth, an online platform which offers aparto residents anonymous, friendly, secure online counselling, peer-to-peer support, self-care help and advice.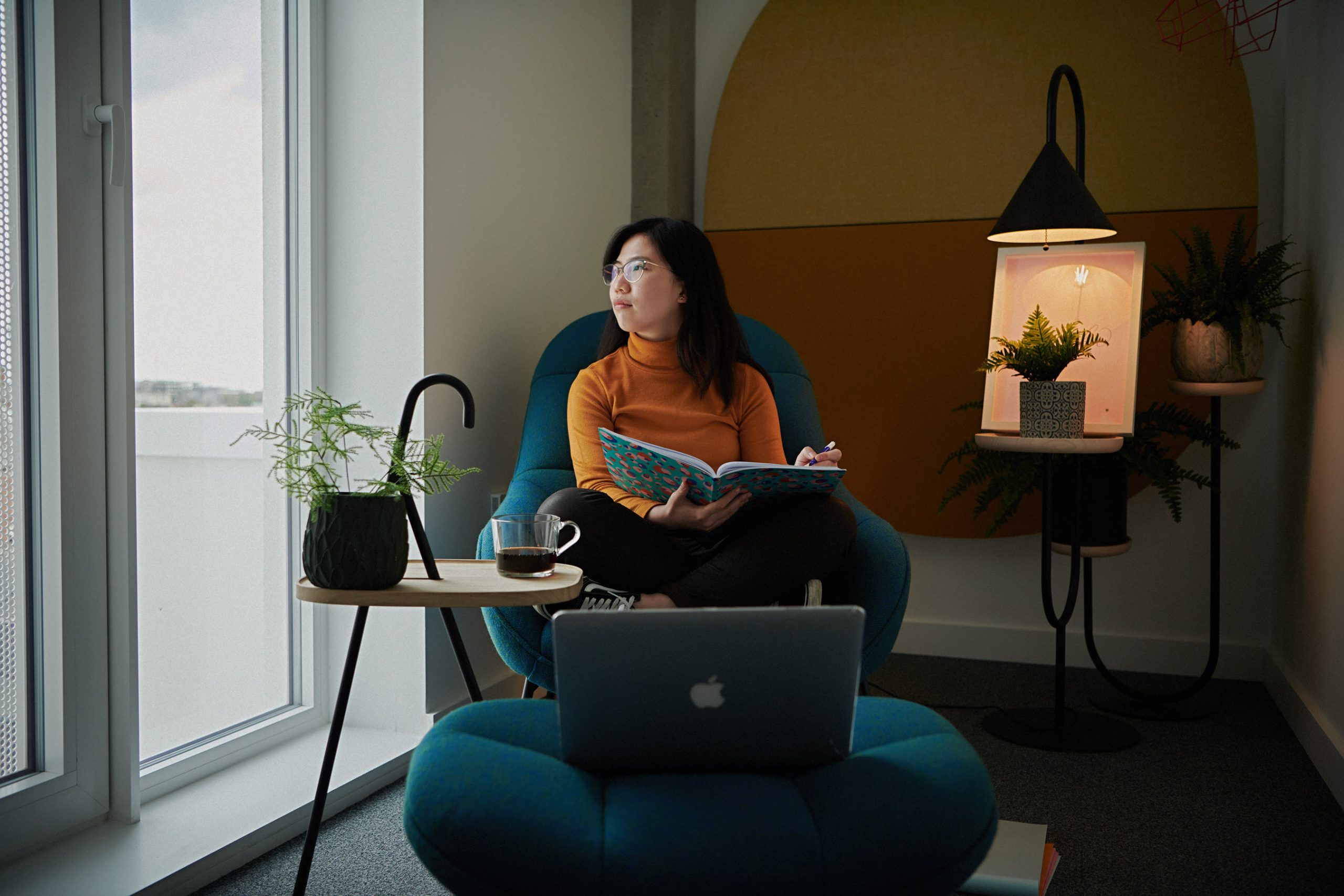 So what are you waiting for? aparto have several exciting offers across their Dublin residences, at Binary Hub, Dorset Point, Beckett House and The Loom.*
Book your modern ensuite room, and get up to a €300 voucher when you book with code SUMMER21
Book with confidence, with aparto's flexible cancellation policy
Studying any healthcare course? Ask about aparto's medical student rate
For more information visit their website or call: 01 9120928.
* T & C's apply. Valid on selected room types
The post Get sorted for college 2021 with aparto's latest accommodation in Dublin appeared first on VIP Magazine.