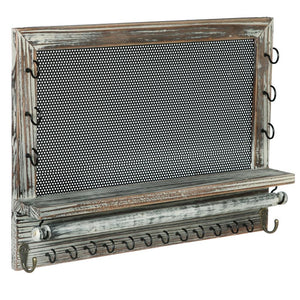 Keep your jewelry shimmering and untangled with this multi-use wall mounted jewelry organizer. A wooden whitewashed vintage frame off-sets the modern metal hooks and perforated backing. This hanging rack features 6 side hooks or holding rings, 12 small bottom hooks for necklaces, 2 large hooks for scarves or purses, one removable rod for bracelets or watches and a perforated back for dangle and studded earrings. There even features a small shelf for even more storage. This all-in-one jewelry organizer isn't just functional it's also fashionable.
**Official MyGift® product** Jewelry not included.
Approximate Dimensions (in inches): 12.5 H X 16.5 W X 3.0 D.