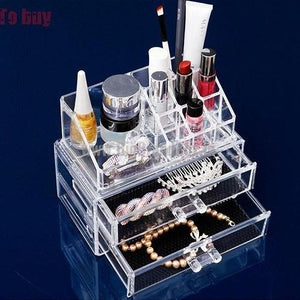 Acrylic Makeup & Jewelry Organizer, Cosmetic & Accessories Display Box, 2 Piece Set

GREAT ORGANIZER FOR MAKEUP, JEWELRY & MORE:  organizer is great for organizing your cosmetic collection or jewelry collection, as well as your makeup applicators and brushes. This organizer is the magic solution you have have searching for.

ABLE TO HOLD MANY DIFFERENT TYPES OF COSMETICS: Store all of your makeup neatly and efficiently  cosmetic stand holder! Keep your eyeliners, brushes, and more clean, organized, and ready to find!

EASY TO CLEAN:  organizer case was created with making your life easier in mind. Not only does it keep all of your belongings neat and tidy, but it is also very easy to clean. Simply dampen a cloth with a little soap and water, and wipe it down. Keep all of your makeup and jewelry clean and catalogued with the use of our premium organizer!

MAKES A GREAT GIFT: This organizer has so many uses that it makes a perfect gift for women, children, and men! It can be used for any task that needs tidying, and can be placed in a bedroom, bathroom, living room or kitchen! Tame all of the unkempt areas of your home with this organizer and restore order today!

100% SATISFACTION GUARANTEED:  guarantees that you will love our products. We strive to make only the best products from the best materials, at the most affordable prices for our customers! If for any reason you are not completely happy with our product, please contact a customer representative and let us make it right.