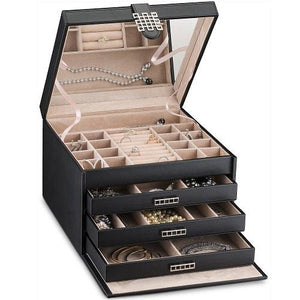 42 UNIQUE COMPARTMENTS - Glenor Co Jewelry Box has compartments of various sizes and shapes to keep all types of jewelry separate, organized and neatly displayed. The compartments hold necklaces, bracelets, rings, earrings, watches, etc.

UNIQUE,CONVENIENT & ATTRACTIVE DESIGN - Glenor Co. Jewelry Box boasts a unique , beautiful and a more convenient design than the other jewelry boxes out there. Our talented team of designers have worked hard to produce the perfect balance of modern ,sophistication, beauty and class to create this unique box with its gorgeous large mirror and attractive metal buckle. Unlike others our box possesses a magnetic snap that can be easily opened and closed with one hand for the most convenient use.

GIFT BOX & BLANK CARD - An elegant gift box and blank card is included with each Jewelry box for the most presentable gift giving. This makes a great gift for a mother, girlfriend , wife, daughter, colleague, friend or any other special woman in your life.

BE HAPPY: Glenor Co offers a 100% satisfaction Money-Back Guarantee to ensure complete customer satisfaction. You are guaranteed to end up happy.

OVERALL DIMENSIONS: 11 Inches x 11 Inches x 7 ¼ Inches
"GOT JEWELRY?"

Is your jewelry all over the place? Are you struggling to keep them organized & handy? Are you Looking for the most beautiful jewelry box to accommodate your or a loved one's expanding jewelry collection?

Glenor Co. Luxury Jewelry box is what you are looking for. It will keep your jewelry organized, neat and gracefully displayed in the most beautiful way. We guarantee it and so do our customers. 

"THE ULTIMATE JEWELRY BOX"

*42 Compartments- Jewelry box has 42 compartments of various sizes to keep many types of jewelry pieces, each in their own space
*Attractive Contemporary Design- It's very obvious that Glenor Co has given much attention to every little detail while designing this box. It's elegant buckle, beautiful large mirror and smooth design is the perfect combination of modern and class
*Magnetic Snap opens & closes easily
*High Quality- Glenor Co jewelry box is made with solid & the highest quality materials only and is destined to last for a long time
*No More Misplacing Jewelry- With its neat compartments & trays this box will keep all your jewelry organized & displayed in one place
*The Ultimate Gift- Already packaged in an elegant gift box & gift card included, this stunning jewelry box is guaranteed to please

Open your box to discover...
*PU Leather smooth exterior with belt and stitching detail.
*Modern Metal on the closure belt
*The interior is covered in a soft velvety fabric to protect against scratches.
*Lift- out tray and bottom space with a total of 42 compartments.
*Beautiful large mirror on the inside of lid
*Beautiful Gift Box included
*Gift Card included

Glenor Co Jewelry Box is the ONLY Jewelry box backed by a No-Hassle Money-Back Guarantee to ensure 100% Satisfaction.

So what are you waiting for? Click on the Buy button to order your Jewelry Box now.