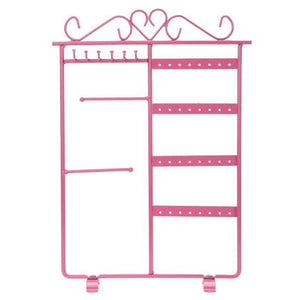 Jewelry Organizer
A new way of keeping all your valuable jewelry in one place without the troubles of looking for them or opening a box. Our jewelry organizer will be the only thing that you need to keep any kinds of jewelry that you have in one place and having them properly organized. A jewelry holder that is made only for you.
No need for a jewelry box to store all your jewelry. With the unique design of our Jewelry Organizer, you can use this to store your necklace, earrings, bracelet, and rings. All you have to do is to hang your valuable jewelry to where you want it to be and it's all set. There's no need for you to open or close a box, whenever you need to go, you just have to pick up what you need and off you go.
This is a one of a kind jewelry cabinet with the size of a 30cm or 12-inch ruler. You can rest assure that the necklace that you hang are safe and secure. There will also be spaces for your earrings on this jewelry rack with its 32 earring holes to fill in. You will be mesmerized just looking into your jewelry properly arrange with the help of our Jewelry Organizer.

Features
A unique jewelry cabinet, design to capture the attention of who is looking on to it.
6 hooks for your necklace, pendants or chains to hang.
4 racks with 8 holes each for a total of 32 holes design to hold your earrings.