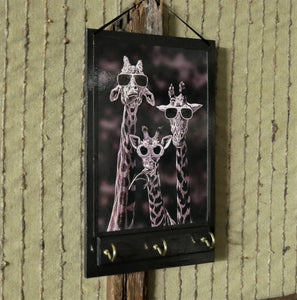 3 Funny Giraffes Wall Key Rack Wearing Glasses
3 Funny Giraffes Key Wall Rack Holder
Unique home owner gift, 3 Funny Giraffes Wall Key Rack to organize your keys
Some other uses you can use your Print 

Wall Key Holder
Entryway Organizer
Ear Phone Storage Organizer
Jewelry Organizer
Animal Leads
About
This Key holder has a giraffe print attached to a MDF board which is highly glazed with 3 coats of clear lacquer to stop any fading of the photo., It is painted in black with 3 hooks and hangs flush on the wall with a black satin ribbon which can be removed.
If you hang it from the ribbon you can twist the ribbon around the hook on the wall to stop it from moving, or for larger key holders use 2 hooks at each end of the top of the holder and twist ribbon around or you can remove the ribbon and screw to the wall.
For the hooks please use a pair of pliers to get them into the position that you would like
Hooks
Silver Round Hook, 
Silver Square Hook, 
Gold Round Hook, 
Gold Square Hook
Size
Key Holder sizes are approximately 7" (17cm) x 8" (20cm)
How To Order
Simply go to checkout and choose your hooks.
If you have any questions send us a message using the 'Contact Us' button on the bottom right of this page.
Please make sure to check out my shop policies before purchase! Thanks for buying handmade.
YES! - I SHIP WORLDWIDE
Also visit me at 

https://nchantedgifts.com

https://www.pinterest.com.au/jenfaulks

https://www.instagram.com/nchantedgifts

http://www.facebook.com/NchantedClocks