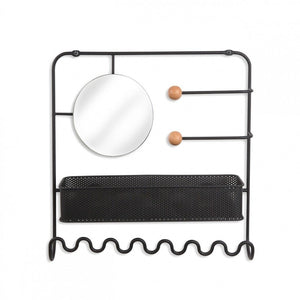 UMBRA Estique Over The Door Accessory Organiser - Black
A jewelry and accessory storage system that can be mounted on the wall or over the door. It includes a mirror, bracelet storage, necklace storage, and a tray. The sides of the tray have a perforated pattern for earring storage.

DESIGN INSPIRATION: We wanted a jewelry organizer that is equally as functional as it is beautiful. ESTIQUE was inspired by simple and contemporary forms, using monochromatic color schemes and wood accents.
Description
Can store multiple jewelry and accessory items
Great for hanging scarf and makeup organization
Easy access to your accessories
Perforated metal detail for earring storage
Includes adjusytable bracket for over the door mounting and hardware for wall mounting.
MATERIAL:
Metal
DIMENSIONS:
36.2 x 36.2 x 9.4 cm