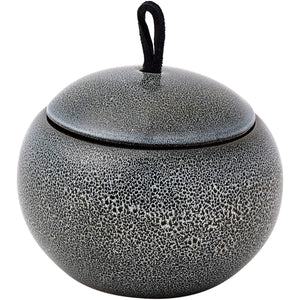 Ugo Black Olive Cosmetic Storage Makeup Jewelry Organizer Beauty Box Canister. Bring the outside indoors with these lively accessories. The hand-applied glaze effect on these ceramic accessories ensures that every piece is unique. Create a genuinely authentic ambiance in your bathroom with these nature-inspired elements.
- Imported from Belgium
- Material: Ceramic
- Color: Black Olive
- Type: Free Standing
- Shape: Round
- Dimension: 4.5 W x 3.5 D x 3.7 H in.
Unique Piece- Handcrafted: The nature of this production process means that every piece is slightly different. Variations in color and design can occur, this adds to the overall charm of our products and it makes them unique.