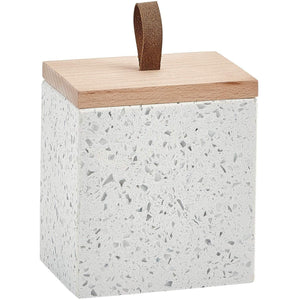 Quartz White Terrazzo Cosmetic Storage Makeup and Jewelry Organizer Beauty Box Canister. Stone and wood: two products of nature that combine to create a warm, natural look & feel in your bathroom. The accessories in the Quartz series are made from stone chippings mixed with cement, which we see in original terrazzo floors, combined with beech wood. Each of the products is handmade and fashioned into a smooth, square-shaped block.
- Imported from Belgium
- Material: Terrazzo, Beech Wood, Leather
- Color: White
- Type: Free Standing
- Shape: Square
- Dimension: 3.9 W x 2.8 D x 4.3 H in.
Like the other Quartz accessories, the Quartz beauty box is a lovely and smooth, simple block-shaped item. Made from stone, topped with a beech wood lid and a jaunty leather loop as a handle. The beauty box is handy for storing cotton wool balls or other small items.