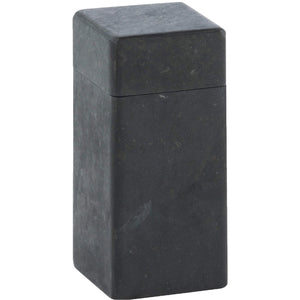 Hammam Gray Marble Cosmetic Storage Makeup and Jewelry Organizer Beauty Box Canister. Bringing the tranquillity and well-being of a genuine Hammam into your home is what you do with the Hammam series from Nova Bath Collection. The products from the Hammam range are handmade which makes each of them a special part of your bathroom, toilet or kitchen. The anthracite marble used for this series, mostly in combination with stainless steel, gives it a rustic and authentic appearance. The Hammam Beauty Box is a handy system for neatly storing small items such as jewellery or hair clips in your bathroom. Thanks to its sleek design and luxury appearance, the box is an accessory that you can be proud to show.
- Imported from Belgium
- Material: Marble
- Color: Dark Gray
- Type: Free Standing
- Shape: Rectangular
- Dimension: 2.6 W x 2.6 D x 5.5 H in.