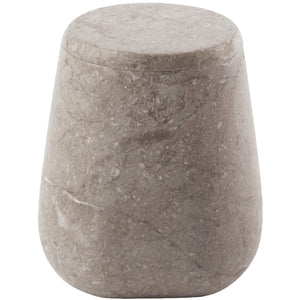 Conor Marble Cosmetic Storage Makeup Jewelry Organizer Beauty Box Canister. Classical, chic and elegant. The accessories from the Conor series create a luxurious and comfortable mood in your bathroom, toilet or kitchen. The products are Designed from Beige-coloured natural rock which creates warmth and atmosphere. The Conor beauty box is handy for keeping small items that you don't want lying around in your bathroom, such as jewellery and hair clips. The beauty box goes well together with other accessories from Nova Bath Collection.
- Imported from Belgium
- Material: Marble
- Color: Beige
- Type: Free Standing
- Shape: Round
- Dimension: 3.3 W x 3.3 D x 4.1 H in.