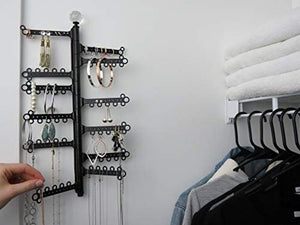 All Hung Up Black Wall Mounted Hanging Jewelry Holder- 12 Tier - Customizable Storage Tree Display Organizer for Necklaces, Earrings, Rings, Bracelets

💎 SEE IT ALL / HOLD IT ALL - Hang up all your jewelry and accessories in a space-saving display. Holds earrings (110 pairs), necklaces, bracelets, watches, rings, hair accessories, etc.

💎 UNIQUELY CUSTOMIZABLE - Change 12 tier branch layout for your unique jewelry collection. Ten branches for necklaces, earrings or bracelets. Two branches for rings or earrings. Removable, reversible, rotating quality plastic branches

💎 TANGLE FREE NECKLACES - Drape necklaces over circles for easy hanging and removal. No need to weave through other necklaces. Goodbye tangled jewelry!

💎 TRAVEL - Removable branches make packing jewelry simple. Earring branch - just take the branch off. Necklace branch - just wind the necklace(s) around the branch and slip an elastic or hair band on to keep it in place. When you get back home, easily slide branches back on.

💎 WALL MOUNTED - Wall mounted version includes a sturdy powder-coated metal bracket with two wall mounting screws and wall anchors. Or use Large Picture Hanging Command strips if you don't want to put screws in the wall (Command strips not included). Use Bath Command strips for steamy bathrooms or humid areas. Stand model is also available. Patent pending. Jewelry not included.