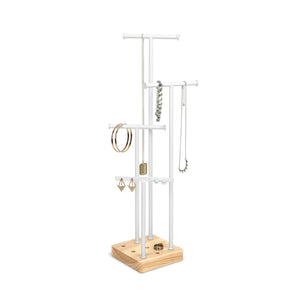 A jewelry stand that's tailored to your personal needs. This jewelry organizer comes with 4 removable posts at varying heights allowing you to create just the right organizer for you.
Comes with an attractive Ashwood base with 4 removable steel posts at varying heights.
Designed with perforated holes on 2 of the bars to accommodate earrings. Bracelets and necklaces can be hung over all posts.
Classic pairing of natural wood and white metal, the tree will compliment any space.
Weighted base to keep jewelry posts firmly in place.
Measures 5" x 5" x 20 1/4"
Jewelry not included. 
From one of our favorites, Umbra