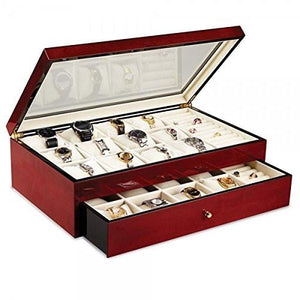 20" x 12" x 6"
holds 24 his or hers watches
22 felt-covered slots
finely crafted lacquer finished
It's time to upgrade your watch & jewelry display!
Stop leaving your expensive wristwatches scattered on your dresser and high-end jewelry tangled in multiple boxes, the Cherry Finished Watches and Jewelry Cabinet by Sky Mall is a luxurious solution for both him and her. This finely crafted lacquer finished cherry cabinet is the perfect accessory to add refinement to any space, with a look that is a lot richer than its price tag. Extra large compartments with ultra-soft pillows securely hold any size watch, displaying them in an organized and easily accessible manner. A glass window on top lets you view 12 watches and a large row of jewelry, making it simple to select the special piece for any occasion. The cover has a metal hinge attached to support the lid and keep it in good condition. Additional storage in a pullout drawer makes this cabinet the only piece you and your partner will need to hold all of your favorite watches, bracelets, necklaces, earrings and rings.
What You Get
1 SkyMall Cherry Finished Watches & Jewelry Cabinet Box
A beautiful showcase to safely hold your wrist watches and jewelry
A sleek way to display your grandest heirlooms and treasures
Specs & Details
Top holds 12 watches with jewelry space
Dimensions: 20"W x 12"L x 6"H / window 17-⅞"W x 9-⅝"L
Inside individual box: 3-⅜"W x 3-⅜"L x 1-⅜"Deep
Jewelry row: 4-⅛"W x 10-¾"L
Drawer holds 12 watches with jewelry space
Dimensions: 18-⅞"W x 11-¼"L
Inside individual box: 3-⅜"W x 3-⅜"L x 2-¼"D
Jewelry row: 3-¾"W x 10-⅜"L
How to Enjoy
Wrap wrist watches around perfectly sized pillow holders
Fill two rows with your favorites bracelets, necklaces, rings and earrings
Show off your most gorgeous possessions, while keeping them safe from scratches or tarnish