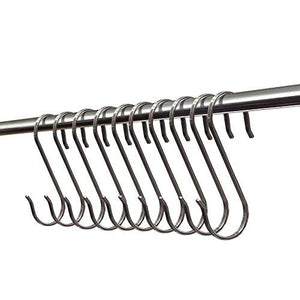 1.STURDY FLAT TYPE S HOOKS - With a closed opening of 24mm (0.95 inch), and 29.21mm (1 1/6 inch) in hook deep, the hook does not easily come off the rack when removing your stuff.

2.CORROSION RESISTANCE - Bulit in stainless steel of 304, with brushed satin finish, the hooks are better in anti-corrosion. But please do not use it somewhere salty or extreme humid, such as beside swimming pool or sea.

3. EASILY INSTALL:S shaped hooks are not limited to a specific area of your home. There is no need to stick or use screws,tools put holes in your beautiful walls.Easily install on most any pipes or dia rods,shelves,baskets,bins,racks,bars,and hang your items.

4. VERSATILE:Can be used both indoor and outdoor in any weather condition! Ideal hanger for pans,pots,coffee mugs, hand towels, kithen utensils

Organizing your closet by hanging scarfs,purses,belts,hats,handbags,jeans,jewelry organizers

Use them in the bathroom to hang washcloths, body brushes.towels,shower curtain and robes

Organize tools in the garage and hang plants in your garden,etc.

5. MORE CHOICE FROM US - Different sizes for different intention, for small sizes 73mm (2 4/5) inch Long, working with 19 mm Rod, pls refer to ASIN B017YJBWU6. For medium sizes 3 2/5 inch Long,working with 25mm Rod, pls refer to ASIN B017YJ6WPG. For large size 4 1/2 inch Long, working with 38mm Rod, pls refer to ASIN B017YIXUVG.

Color : Brushed Nickel

Size : Medium for 32mm Dia Rod
Material: Stainless Steel 304
Finish: Brushed Stain Finish
Dimensions:
Hook Closed Opening - 24mm (0.95 inch)
Hook Deep - 29.21mm (1 1/6 inch)

Included: 10 set of Webi S hooks.

ADVANTAGE:
* Flat Design - Thick plate design to divorce the stress when hanging stuff, to lengthen the life span of the hook.
* Sturdy & Durable - Built in stainless steel 304, and 2mm thick, the hooks are more durable and heavy duty to be used.
* Multi-purposed
Perfect for your small kitchen utensil,such as aprons,hot pads,pan pots,spoons.
Perfect for your closet organization,hanging your purses,lint roller,hats,bags,clothes.
Perfect for hanging jewelry key ring organizers.
Perfect for shower room hanging shampoos,soaps,body cleansers, shower curtain, razor and more through the baskets or shower bag.
Perfect for gardening hanging plants,bird-feeders,and garden decorations.

BRAND STORY:
WEBI is a company specialized in research, development, manufacture, and marketing of architectural hardware for almost 10 years. Supplying not only hardware of high quality, but also professional technical customer services, Webi has achieved a good reputation in construction industry.