5 Pretty Ways To Organize Your Jewelry
Bring some order to my jumbled jewelry collection with these five organizing solutions.
I admit - I'm guilt. Despite my best efforts, my "jewelry drawer" has become a tangled mess of necklaces, bracelets and earrings. This cluttered collection not only makes it hard to see what I have, but difficult to untangle the pieces I do want to wear! This summer, I'm determined to bring some order to my jumbled jewelry collection.
Related: Organizing your makeup
Here are five pretty and practical ways I'm eyeing to organize my jewelry.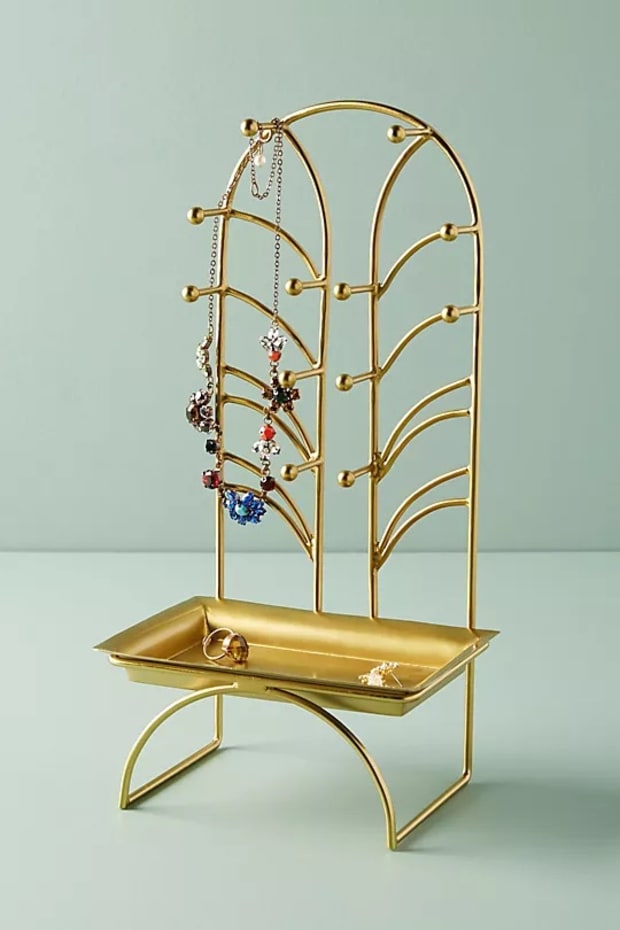 Solution #1: A Simple Stand

Just have a few pieces of jewelry you wear on repeat? Choose a simple, but chic stand like this Art Nouveau Jewelry Stand from Anthropologie. The brass frame has 5 pegs to hold necklaces and bracelets and a simple marble dish for earrings and rings.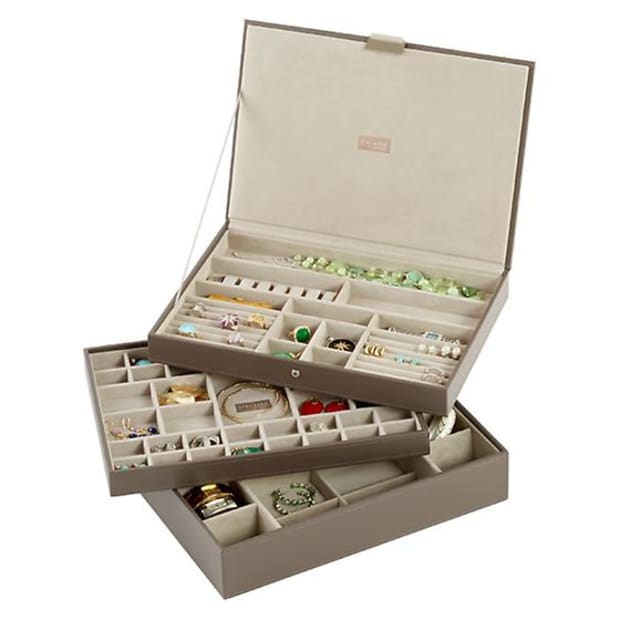 Solution #2: Box It Up
If you have a larger collection of jewelry, opt for a box with stackable drawers like this Mink Supersize Stackers Premium Jewelry Storage from the Container Store. This keeps your jewelry collection streamlined, visually organized while not always being on display in your bedroom or bathroom. 
I also love that whether you're an earring lover or a bracelet hoarder you can buy what pieces you need to make this modular storage solution work best for you. Plus with kids around, it also might keep little hands from helping themselves to your beads and baubles.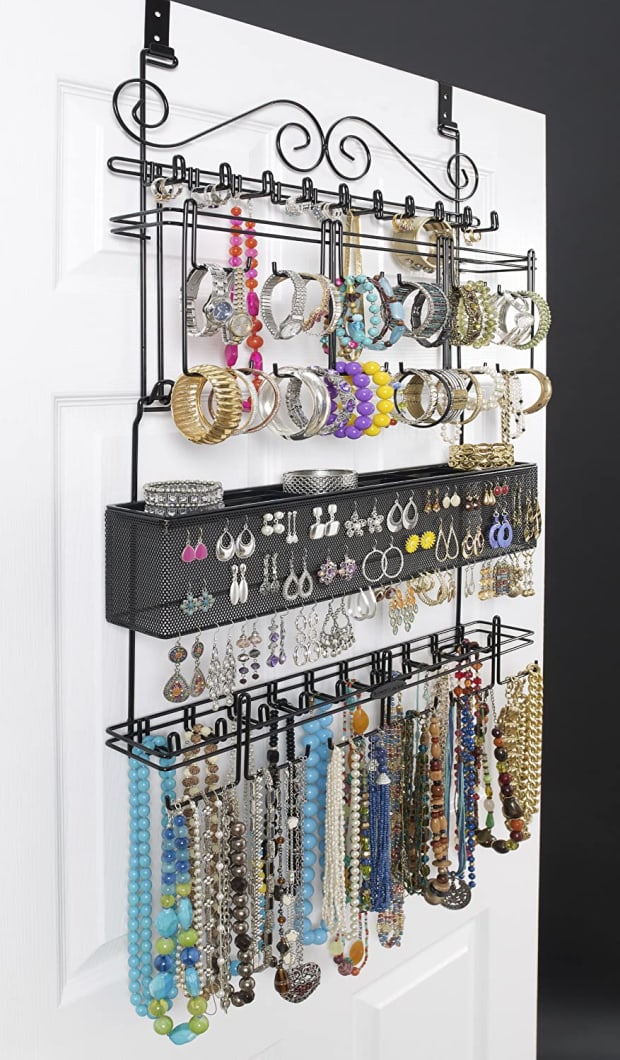 Solution #3: A Hidden Jewelry Hanger
I love that this over-the-door jewelry hanger lets you make use of space that is probably under-utilized on the inside of a closet or back of your bathroom door. The organizer is available in black, bronze and white, and offers plenty of space to hold necklaces, earrings and bracelets letting you easily see your entire jewelry collection while you're getting dressed. Get it on Amazon here.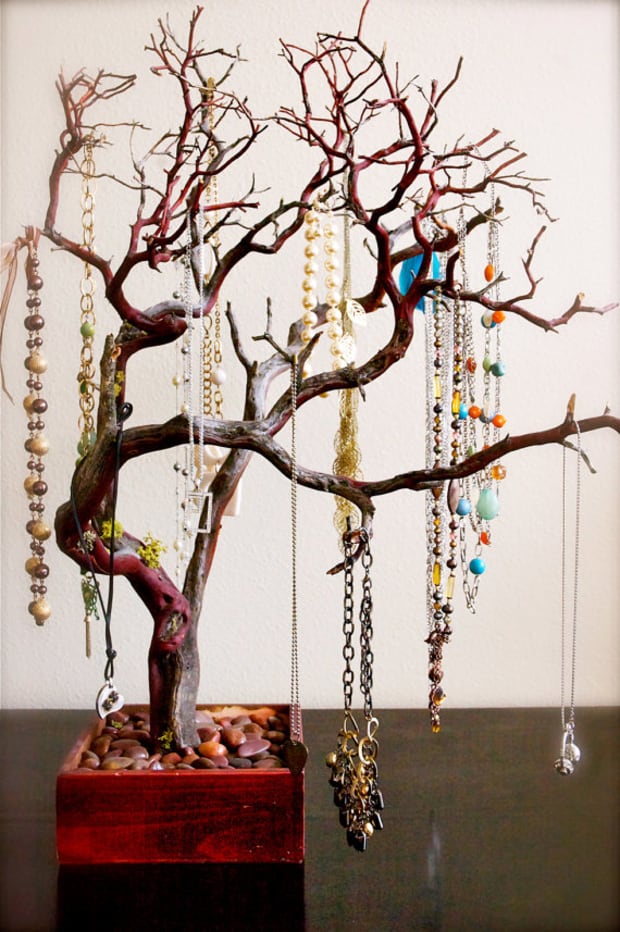 Solution #4: Branching Out With A Statement Piece
There is something so stunning about this Tree Jewelry Organizer from Etsy. First of all, this is made from a real manzanita tree branch, known for both its sturdiness and color variation. If you have the counter space to spare and don't load it down so that the tree looks too over-burdened, this really can be an amazing way to display your jewelry.
Solution #5: A D.I.Y. Jewelry Organizer
Confession #2 - I am NOT crafty, but even I think I could tackle some of these do-it-yourself jewelry storage solutions. One popular method require strips of wood that you can stain, paint or decorate as desired, a drill to pre-drill holes, and as few bags of twist-in hooks. This one by Lil Luna keeps the wood simple while still providing plenty of storage.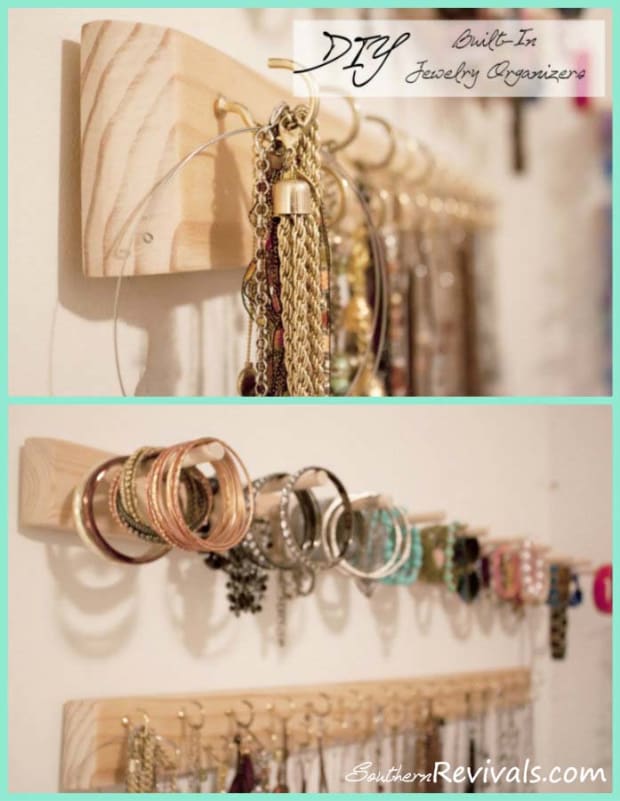 For a more modern touch, I love how I Heart Organizing turns these radiator sheets (available at places like Lowe's or Home Depot) into a sophisticate jewelry holder. The grates come in a variety of colors like white, silver, and bronze, cut-out styles, and sizes so you can really create a look that will fit your space and personality. She only hangs earrings here, but with some simple S hooks, you could make it suitable for necklaces too!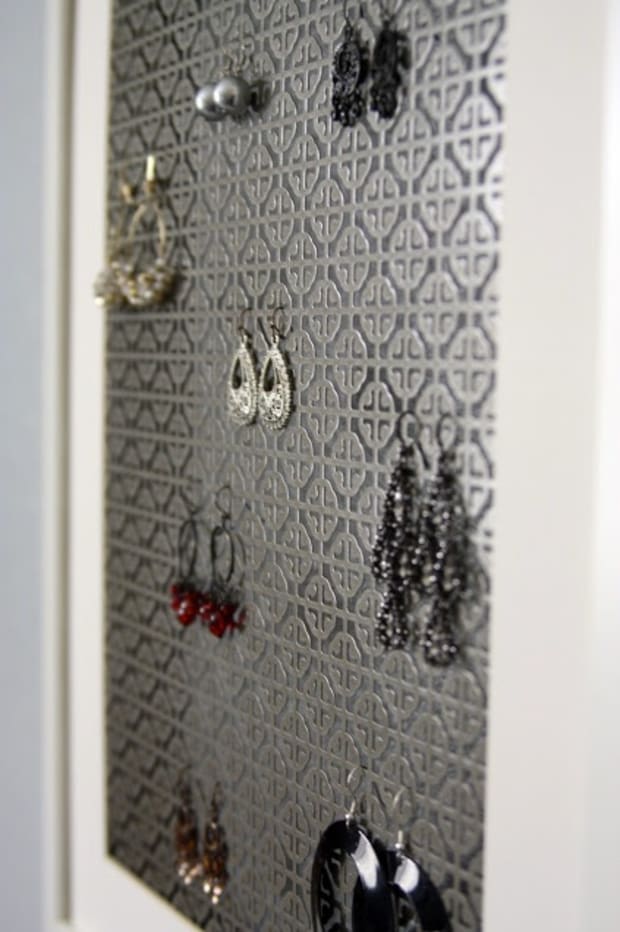 Please visit the links to those ladies' websites for complete directions and more information.
Happy organizing!
MORE DESIGN TIPS FROM MOMTRENDS
PIN IT!
Need more ideas on what to do with the kids? Be sure to follow our Organization board on Pinterest here.
Momtrends was not paid for this post. Some links may be affiliate links.